Description
Flight of the Super B's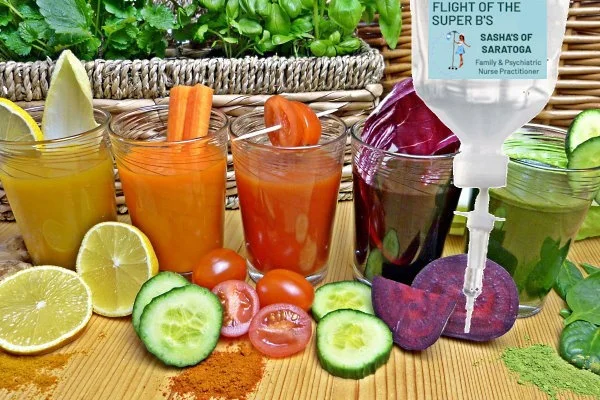 What is in it?
500 ml of IV fluids, maximum amount of B-complex and Methyl-B12.
What is it good for?
Healthy brain function, reduces stress, increased energy, healthy skin and much more.
How often should I get this?
2x a month to combat symptoms of fatigue and dehydration.
What do B vitamins do?
B vitamins play an essential role in a variety of the body's system, including improving cardiovascular function and oxygen transport, acting as an antioxidant, protecting cells, and preventing inflammation, improving mood, and breaking down fatty acids to promote healthy weight loss.
You must enter a credit card to reserve your appointment. Your credit card will not be charged until after your appointment. If you need to reschedule or cancel your appointment, you must do so at least 24 hours prior, or your card may be charged a cancellation fee of $100.00.
SINGLE – $175



FLIGHT OF THE SUPER B'S INFUSION PACKAGES – SAVE $
(Choose from Mother of All Migraines, Rocket Fuel and/or Flight of the Super B's)