Description
Rocket Fuel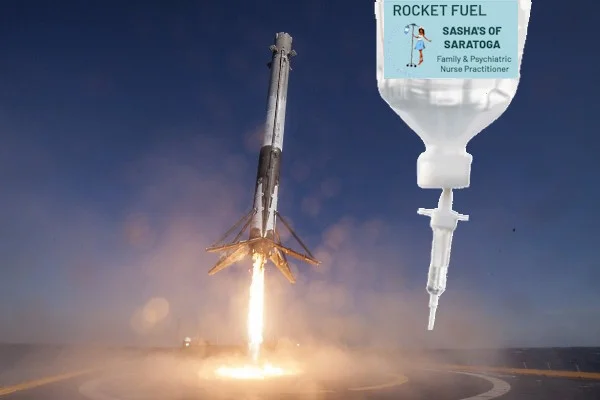 What is in it?
One liter of IV fluids, B-complex 100, methyl B12, taurine, l-carnitine.
What is it good for?
Concentration, dry skin and hair, fatigue, muscle soreness and recovery.
How often should I get this?
2x a month to combat symptoms of mental fatigue, lethargy and dehydration.
What else should I know?
Receive instant, sustainable energy and mental clarity through IV B vitamins. Vitamin B is essential in almost every major chemical reaction within the body. The energy boost also contains the amino acid Taurine, which increases the action of insulin, improving glucose tolerance and acting as an antioxidant. It is vital for the proper function of minerals in the body.
L-Carnitine is a nutrient that facilitates the conversion of fatty acids into energy. With L-Carnitine working optimally in our body, we can begin to use fat as fuel as efficiently and effectively as possible.
You must enter a credit card to reserve your appointment. Your credit card will not be charged until after your appointment. If you need to reschedule or cancel your appointment, you must do so at least 24 hours prior, or your card may be charged a cancellation fee of $100.00.
SINGLE – $175



ROCKET FUEL INFUSION PACKAGES – SAVE $
(Choose from Rocket Fuel, Flight of the Super B's, and/or Mother of All Migraines)