Description
The Whole Shebang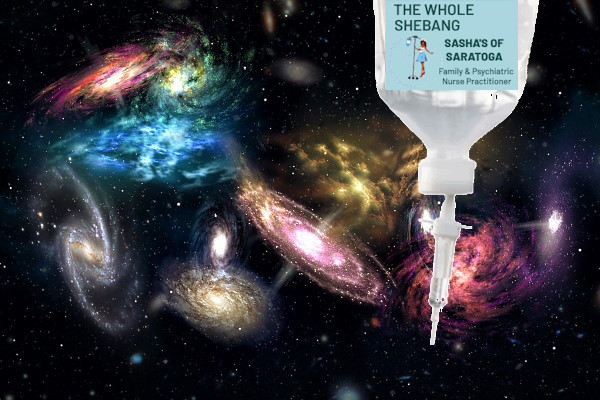 The Whole Shebang Contains:
1-2 liters of IV fluids, B vitamins: (B1 thiamine, B2 riboflavin, B3 niacin, B5 dexapanthenol, B6 pyridoxine, methyl-B12), folic acid, tri-amino blend: (l-arginine, l-citrulline, l-ornithine), maximum dose of vitamin C, taurine, magnesium, methionine, inositol, choline, multi-trace elements, choice of: anti-inflammatory medication or anti-nausea medication.

What is it good for?
Headaches, dehydration, body aches, nausea, vomiting, fatigue, energy boost.

How often should I get this?
1 to 4 times a month for overall wellness and support.br>
What else should I know?
Want it all? The Whole Shebang is your answer! This bag is Packed with the maximum amount of Vitamins, Minerals and Amino Acids to leave you feeling completely revived!
You must enter a credit card to reserve your appointment. Your credit card will not be charged until after your appointment. If you need to reschedule or cancel your appointment, you must do so at least 24 hours prior, or your card may be charged a cancellation fee of $100.00.
SINGLE – $450



THE WHOLE SHEBANG INFUSION PACKAGES – SAVE $